---
The goal is to throw dice to help draw a beetle insect. Each body part represents a specific number on the dice, which will determine the final score.
---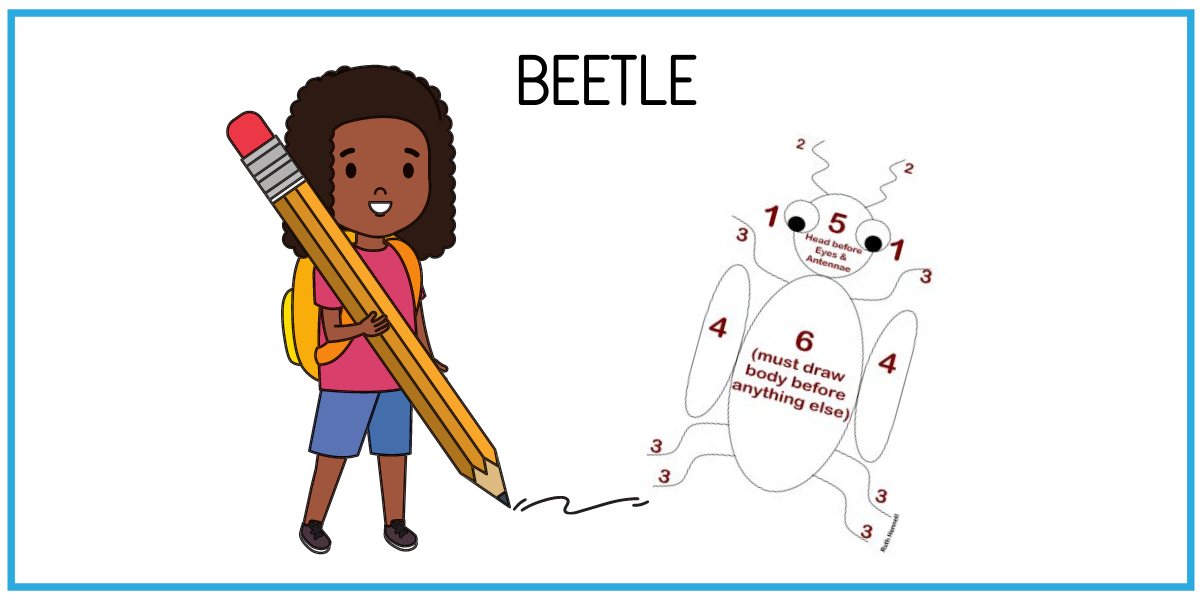 Purpose
Practice addition by drawing a beetle insect
Materials
How to play:
One person draws the beetle and the other throws the dice
Throw the dice in order to draw the beetle. See 'Drawing the Beetle" below
 When a pair has drawn a complete beetle, they shout
"Beetle" and everyone must STOP playing.
 Each pair adds up the number of body parts they have
drawn with the maximum being 14. Write this on a
scorecard or piece of paper
 Players swap roles and play again. Play between 4 or 6
games
Pairs can add up their scores using any strategies they wish
 Pair with highest score wins
Drawing the beetle
There are 14 body parts – body, head, 2 wings, 6 legs, 2 feelers,
2 eyes
• you must throw a 6 to start – and you can then draw the BODY
• throw a 5 – draw the HEAD – must be drawn before eyes & feelers
• throw a 4 – draw the WING (2 of these)
• throw a 3 – draw a LEG (6 of these)
• throw a 2 – draw a FEELER (2 of these). Must have the head first
• throw a 1 – draw an EYE (2 of these) Must have the head first
Extensions
• Before each pair adds up scores, the whole group can estimate
which pair they think has the highest score and lowest score. Discuss
strategies
• Then each pair adds up their score and hand to another pair to check and agree or
disagree
• Check actual scores against estimates
Source:
South African Numeracy Chair Project. (2016). "Pushing for Progression" in number sense and fluency Maths Club Development Programme: Session Two Teacher Handbook. Grahamstown, South Africa: South African Numeracy Chair Project (Rhodes University).
---
Published under a creative commons (BY-NC-SA) licence. You may use, copy, distribute or modify this content provided it is for non-commercial purposes. Please acknowledge: www.mathsclubs.co.za