---
The goal is to fill up the grid to get it as full as possible while using the space as efficiently as possible. Draw arrays on the grid to see how close you can get to 100. How many squares do you have empty?
---
Purpose
Practice multiplication
Materials
Draw or print this 100 grid sheet
Plastic sleeves
Kokis
Cleaning cloth
How to play:
 The first player rolls the dice and uses those two numbers to make an array on the 100 grid. FOR EXAMPLE  if you roll a 2 and a 6, draw a 2 x 6 or a 6 x 2 array anywhere on the grid(see image below)
After the player draws the array on the grid, write in the multiplication sum that describes the array at the bottom of the page. FOR EXAMPLE 2 x 6 = 12 or 6 x 2 = 12
The second player rolls the dice, draws the array and writes their multiplication sum
The game ends when both players have rolled the dice and cannot put any more arrays on the grid.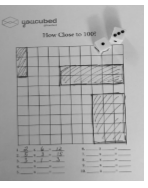 VARIATIONS 
Each child has a grid of their own. Who can get closest to 100?
Make grids of 400 and add more dice, or use dice with more sides
Adapt the game to let the grid represent 100%( for older learners)
Published under a creative commons (BY-NC-SA) licence. You may use, copy, distribute or modify this content provided it is for non-commercial purposes. Please acknowledge: www.mathsclubs.co.za