---
Learners use hands and bead string to recognise numbers from 6 to 10 as being made of 5 and ...
---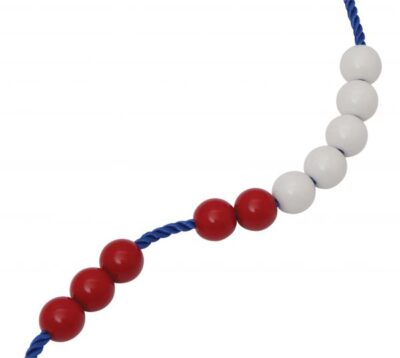 Purpose
 Recognise the numbers from 6 to 10 as being made up of 5 and …
How  to play
Use hands to show 5 and _ .Write 5 and ___is 7 on the board. Show 5 on one hand. Hide the other hand. Say "I can see 5 fingers. How many more fingers do I need to make 7 (and then 8; 9; 6; 10).
Learners might use their fingers to help them. Encourage opening of remaining fingers in one movement rather than one by one. Show three more fingers and say "5 and 3 makes 8". Fill in the missing 3 on the board.
Learners can also do this in pairs. Write a few number sentences like 5 and ___ is 7 on the whiteboards and ask the learners to work them out.
Variation
Use the bead sticks/strings (i.e.  with 5 beads of one colour and 5 beads of another colour)  on them:
Write 5 and ___ is 7 on the board. Show 5 beads on the bead stick. Hide the remaining beads. Say "I can see 5 beads. How many more beads to make 7 (and then 8; 9; 6; 10)
Published under a creative commons (BY-NC-SA) licence. You may use, copy, distribute or modify this content provided it is for non-commercial purposes. Please acknowledge: www.mathsclubs.co.za