---
Learners practice sorting and clarifying using Venn diagram
---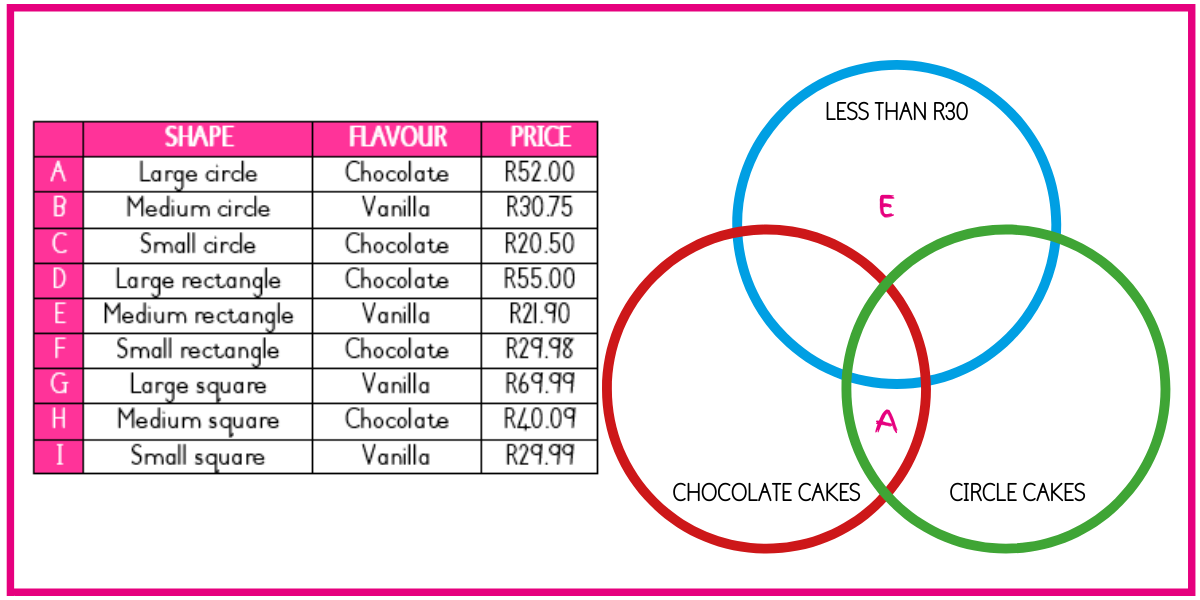 Purpose
Building, sorting and clarifying skills
Materials
How to play
Def:A Venn diagram is a picture that uses overlapping and non-overlapping circles to show the relationship between group of things. Where the circle overlap, items have something in common. Where the circle do not overlap, the items do not have anything in common.
Example
Cake shop
The local shop has a list of cakes (see the list above).
Help the shop organise the cakes into the diagram above so they create a shop window display.
Put the letters of each cake into the circle you think they should go in.
Two of the cakes have been sorted for you.
Cake A is a circle,and chocolate, so it goes in "Circle Cake" and "Chocolate" circles.
Cake E is a vanilla rectangle cake, less than R30 so it goes into the "Less than R30″circle.
Explain your thinking to your partner see if they agree with you.
Published under a creative commons (BY-NC-SA) licence. You may use, copy, distribute or modify this content provided it is for non-commercial purposes. Please acknowledge: www.mathsclubs.co.za