The last Saturday of Term 3 OLICO Education hosted a wildly successful Family Maths and Reading Day at their centre in Diepsloot, Johannesburg. Gr 1 – 6 learners who attend OLICO's Maths Clubs in Diepsloot were invited to attend a morning of maths and reading fun with their families.
Family maths and reading days create a welcoming environment for the whole family to enjoy playing and learning together. Research shows that family involvement in a child's learning can have a big impact on a child's school performance. For this reason, the family maths day created the opportunity for grannies, mothers, fathers, aunts and older siblings to participate alongside their children.
Over the course of two hours, families formed teams and completed a circuit of over 20 maths and reading games, similar to the games played each week in their maths clubs. Gr 9 and 10 learners who attend OLICO's after-school Maths programmes volunteered to run the games, explaining the games and activities to the families.
Every family that attended got a prize of a pack of cards and two dice, which families were encouraged to use to bring maths games into their home. The overall challenge of the day was to estimate the number of sweets inside a large jar. In an amazing feat, three families tied – they were all only two or three sweets off from the actual total of 256!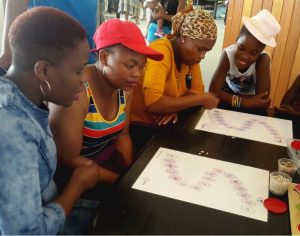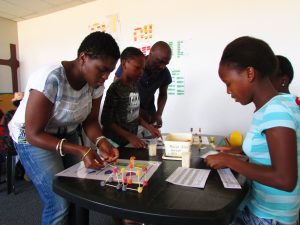 If you are interested to run a Family Maths and Reading Day of your own, please get in touch with OLICO Education info@olico.org.