---
Learner play in pairs. They each show a certain number of fingers. The winner is the learner who can determine the difference between the two numbers first.
---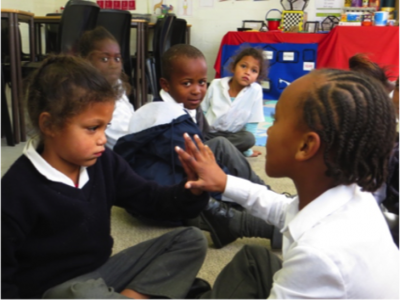 Purpose
Practice subtraction
How to play
Children sit facing each other with their hands behind their backs.
Together they say '1, 2, 3, show' and as they say 'show' they both bring one of their hands to the front and show a certain number of fingers. In the picture the one child is showing 5 and the other child 4.
The first child to shout out the difference of the two numbers wins. In the picture the difference is 1.
Notes
If children struggle to see the difference, let them match up their fingers with their partner's fingers to see how many fingers don't have a partner. In the picture one child is showing 4 and the other child 5. There is 1 finger that doesn't have a partner. The difference is 1.
Start with each learner showing only one hand (i.e. not more than 5 fingers). Later learners can show fingers on two hands (i.e. numbers are increased to 10).
Variation
To play with the whole class ask two learners to come to the front. The class calls out 1, 2, 3, show! The two learners in front each show a number. The whole class shouts out the difference.
Published under a creative commons (BY-NC-SA) licence. You may use, copy, distribute or modify this content provided it is for non-commercial purposes. Please acknowledge: www.mathsclubs.co.za